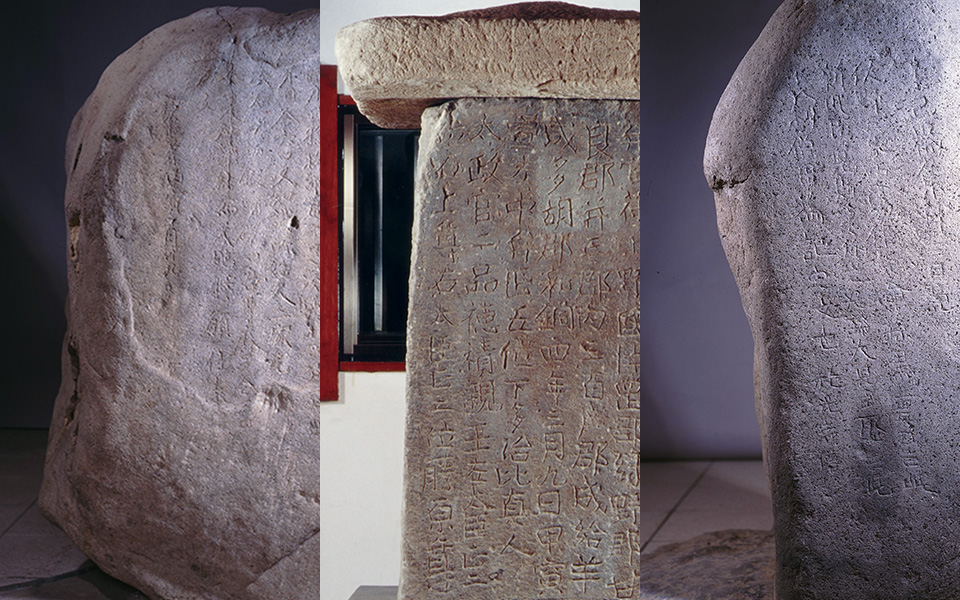 A City of Ancient Eastern Culture
The Three Stelae of Kozuke Province, the Yamanoue, Tago and Kanaizawa Stelae, so called because of the ancient name for Gunma is Kozuke-no-Kuni, were erected between the 7th and 8th century and are among the oldest remaining stone monuments in Japan. There are only eighteen ancient stelae still standing, and the fact that these three exist within a 5 kilometer radius in the south west of Takasaki, proves the rich culture that has existed here. In honor of their outstanding international value and to increase awareness worldwide of the existence of this historical culture, the Three Stelae of Kozuke Province have been nominated for inscription on the UNESCO Memory of the World Register.

Nominated for Inscription on the
Memory of the World Register
The Three Stelae of Kozuke Province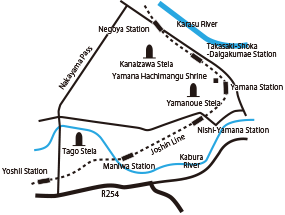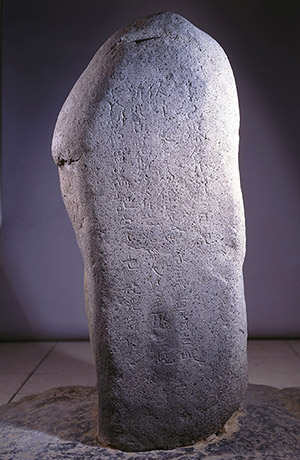 The Yamanoue Stela
山上碑
The Yamanoue Stela, erected in 681, is the oldest still-standing stone monument in Japan. Priest Chori erected the stela in honor of his mother, Kurometoji, right next to her burial mound. The existence of the burial mound along with its epitaph from the seventh century makes it a very precious historic site. From the stela's inscription it is apparent that Chori's mother although having married Ogo-no- Omi, had remained at her family home in Sano, providing an insight to the marriage customs of the time.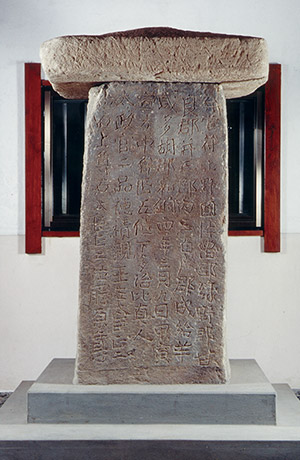 The Tago Stela
多胡碑
The Tago Stela is one of three ancient stone monuments in Japan recognized for its fine calligraphy. The Tago Stela records the establishment of the new county of Tago in 711. The inscription uses a mix of Japanese and Chinese character readings and grammar. The quality of the calligraphy on the stela is highly regarded for its bold, cursive shape in the rikucho style from China. In the inscription is mention of "Hitsuji", thought to be a person's name, and to this day there remains local tales about this legendary person who was referred to on the Tago Stela.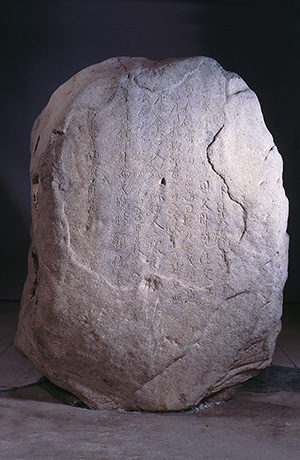 The Kanaizawa Stela
金井沢碑
The Kanaizawa Stela was erected in 726. The stela is dedicated to the memory of family ancestors, demonstrating the influence of newly-arrived Buddhist ideology on Japanese culture at the time. The content of the inscription indicates that orders of the imperial court were strictly adhered to in the provinces, and notably four of the nine people listed on the stela are women, suggesting their high social standing in ancient times. The Kanaizawa Stela is also the oldest written document in Gunma Prefecture that uses the name "Gunma" to refer to the region.