Takasaki, Connecting the Kanto
and Shin-etsu Regions
A city center bustling with people, products and information, yet the
chance to mingle with nature is just a short distance away. Introducing
Takasaki, a city with many wonderful sites to see.
Direct access to Tokyo from Takasaki, the gateway to Gunma Prefecture
50 minutes from Tokyo, 15 minutes to Karuizawa
Takasaki is 50 minutes by Shinkansen from Tokyo or 60 minutes by car from Tokyo's Nerima Interchange on the Kan-etsu Expressway. Takasaki is a residential area within commuting distance of Tokyo thanks to direct access to major train stations in the capital via the Shonan-Shinjuku and Ueno-Tokyo lines.
Located in the center of Honshu, Takasaki is a pivotal point in the inland transportation network, with the Kan-etsu, Kita-Kanto, and Joshin-etsu Expressways, and Joetsu and Hokuriku Shinkansen lines passing through the city. Work was completed on the extension of the Hokuriku Shinkansen line to Kanazawa in March 2015, further improving Takasaki's convenient location.
Takasaki is within easy reach of the internationally-known resort town of Karuizawa. Gunma is also home to the popular hot spring towns of Kusatsu, Ikaho, Minakami and Shima, and Takasaki's transportation network makes it a base for visiting not only Tomioka Silk Mill but also the many other tourist spots in the prefecture. Takasaki Station is surrounded by numerous hotels and traditional Japanese inns convenient for both business and tourism. Visitors will enjoy shopping for souvenirs at the specialty counters inside the station building that sell locally-produced goods from around the prefecture.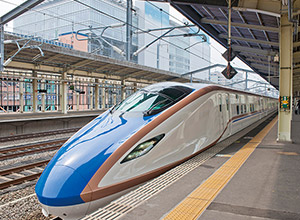 Hokuriku Shinkansen
Access