1

Mt. Ushibuse Nature Park

This park is 491 meters above sea level, and has trails to the top that will please climbers. Enjoy the beauty of seasonal flowers such as cherry blossoms and hydrangeas along the roadside. At the top is a replica of an old Japanese castle that acts as an observation tower and rest point, overlooking the city.
Taira, Yoshii-machi
7 min. by car or 60 min. walk from Yoshii Sta.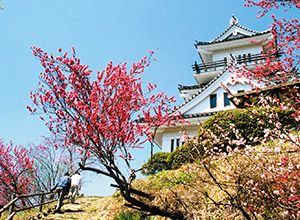 2

Klein Garten

Klein Garten meaning "small garden" in German is a place where people who live in the city can grow their own vegetables and flowers. Basic know-how and training programs are available.
27 Mizunuma, Kurabuchi-machi
027-378-3834
90 min. by bus from Takasaki Sta.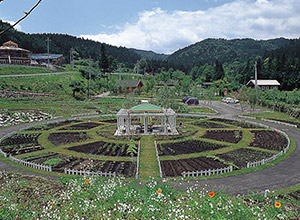 3

Ishibumi-no-michi (Promenade of Stone Monuments)

Enjoy nature while learning about history by following this historical promenade close to central Takasaki. The tales of ancient history will unfold before your eyes.
Right near Yamana Sta.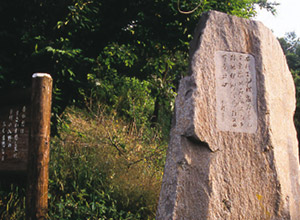 4

Warabi-daira Forest Park Camp Site

This well-equipped camp site is perfect for enjoying camping and the outdoors or a leisurely afternoon surrounded by nature. There are hiking courses to nearby Mt. Tsuno-ochi, Mt. Asama-kakushi and Mt. Hanamagari.
27-9 Kawaura, Kurabuchi-machi
027-378-3761
80 min. by car from Takasaki IC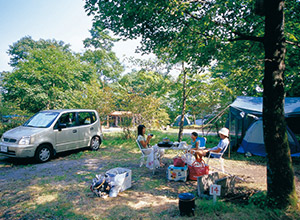 5

Smelt Fishing on Lake Narusawa

Lake Narusawa doesn't freeze over in the winter and smelt fishing from a boat or from the pier can be enjoyed from October to late February.
1639 Tomioka, Misato-machi
027-371-1124
20-30 min. by car from Takasaki / Maebashi / Shibukawa-Ikaho IC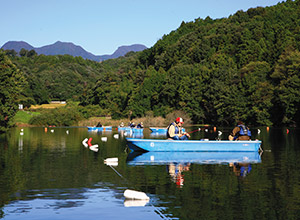 The Kannonyama Hills
From the summit of Mt. Kannonyama at an altitud
6

Byakue Dai- Kannon (White-Robed Goddess of Mercy Statue)

From the summit of Mt. Kannonyama at an altitude of 190 meters stands the magnificent statue of Kannon, the White-Robed Goddess of Mercy. Built of concrete in 1936 by businessman Yasusaburo Inoue, the statue measures 41.8 meters in height, weighs 5,985 tons, measures 48 meters around the waist and 0.4 meters around the thumb. The model for the statue was carved by the sculptor from Isesaki, Torizo Morimura.
The statue is a popular tourist spot, and also known as the first stop on the pilgrimage of the 88 holy grounds of Kanto. It was chosen as one of the One Hundred Togoku Flower Temples because of the more than 3,000 cherry trees and other seasonal flowers that adorn the surrounding hills making it a popular place for locals to relax.
The inside of the statue is divided into 9 levels and visitors can enter and climb the stairs to the shoulder of the Goddess. There are 20 small Buddhist statues enshrined along the way and the top level provides a sweeping view of the city as well as the Three Mountains of Jomo, and the distant Nikko, Chichibu and Yatsugatake Mountain Ranges. In 1998 the statue was awarded the Takasaki Urban Scenery Prize and in 2000 it was designated a Tangible Cultural Property of Japan.
Loved as the symbol of Takasaki since its construction, the statue's compassionate and gentle gaze appears to be watching over the people below, protecting their peaceful existence.
2710-1 Ishihara-machi (Jigen-in Temple)
027-322-2269
Mar-Oct 9:00-17:00,Nov-Feb 9:00-16:30
Entrance to inside the statue: Adults ¥300, children ¥100
20 min. by bus from Takasaki Sta.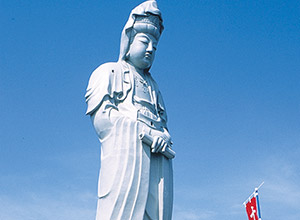 7

Doukutsu Kannon (Cave of Goddess of Mercy Statues)

Step into the cave and find yourself in a fantastical world where 33 stone statues of the Goddess of Mercy are housed.
2857 Ishihara-machi
027-323-3766
Weekdays 10:00-16:00,Weekends/national holidays 10:00-17:00 *May change depending on the season
Adults ¥800, children ¥400
26th -30th Dec
20 min. by bus from Takasaki Sta.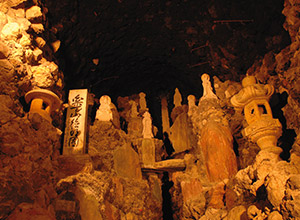 8

Kannonyama Family Park

Families are sure to enjoy the wide open sky and vast stretches of green grass in this park, perfect for a barbecue surrounded by nature, or try your hand at ceramic art in the craft studio.
1064-30 Terao-machi
027-328-8389
35 min. by bus from Takasaki Sta.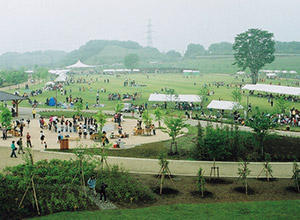 Mt. Haruna and Lake Haruna
Harunako-machi  90 min. by bus from Takasaki Sta.
Mt. Haruna is 1,449 meters above sea level and Lake Haruna is located near the top at 1,100 meters. The view is spectacular throughout the year and is popular with sightseers.
9

The Kohan-no-Yado Memorial Park

This park was made in remembrance of an old song called "Kohan-no-Yado" (A Lakeside Inn).
10

The Atelier of Yumeji Takehisa

Yumeji Takehisa painted many pictures of beautiful women. He loved Haruna and visited the area often. His restored atelier is located at Lake Haruna.
9:00-16:00
Free
Open all year round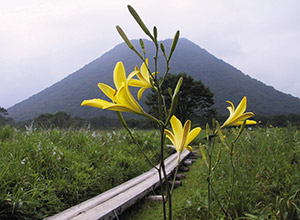 11

Lake Haruna Melody Line

Along the road running toward Mt. Haruna from Ikaho Hot Spring just before the lake is a stretch of road which produces music when car tires drive over strategically placed grooves in its surface. Here, motorists will enjoy the melody of a Japanese song, "Shizuka-na-kohan("The Tranquil Lakeside).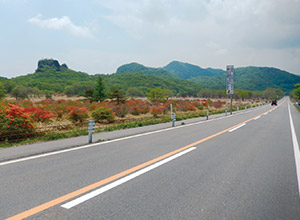 12

Smelt Fishing on Lake Haruna

Autumn: 1st September-30th November
Winter: Ice fishing is possible from late January to late February depending on the thickness of the ice.